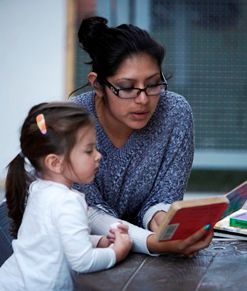 Finding quality child care can be a challenge. Connections for Children can help.
Our Resource and Referral Department offers a wealth of information and resources relating to child care, child development and parenting. Connections For Children can help you get more information on choosing child care, finding the appropriate type of child care, and contacting other community agencies. Call one of our Resource & Referral counselors at (310) 452-3325.
There are many different types of child care, from child care centers and licensed family child care to in-home care. Some care is licensed, and some is not. Licensing does not assure quality, but it does provide guidelines for health and safety. If you take the time to look carefully, you can find quality care for your child in any of these settings. We support parent choice by offering consumer education on choosing child care from available options.
Child Care Centers

Child Care Centers (sometimes called nursery schools or preschool programs) provide care for children in a group setting for all or part of the day. Centers can provide care for infants, toddlers, pre-schoolers, and school age children. Centers vary in size, focus, and philosophy. The California State Department of Education mandates the ratio of adults to children at Child Care Centers.

Child Care Centers offer the following advantages:
The environment is designed specifically for children
Teamwork can promote a positive atmosphere and spirit of cooperation
Staff emergencies do not affect the center's hours
A written account of the individual child's activities may be provided
Centers are more likely to have connections with a wider array of community resources
The state requires that staff meet defined levels of child development coursework and training
Family Child Care Homes

Family Child Care is offered in the home of a caregiver, who may be a parent as well. There are two types of licensed family child care homes:
A small family child care home is licensed to provide child care for six to eight children.
A large family child care home is licensed to provide child care for up to twelve to fourteen children with an assistant present.

Family child care homes offer the following advantages:
The setting is home-like
Parents and children benefit from the sense of having an "extended family"
There is continuity and the opportunity for bonding with the same primary child care provider
Family child care homes may be more flexible in caring for children with minor illnesses
Family child care providers may be able to accommodate the need for long or unusual hours
It is possible to find a provider who shares a similar lifestyle
Other Child Care Options

Head Start and State Preschool programs are available to low-income families for children between the ages of 3 and 5.
LAUP offers free or reduced-fee programs in many locations including centers and family child care homes.
Family Child Care Home Education Networks offer financial assistance to low-income families.
Early Head Start offers services to low-income families for children from birth up to age 3.
Before and After School Care Programs

Available at many elementary schools and other sites for parents who need to drop off their school-age children before school begins, or leave them at school until the end of the work day.
In-Home Care

Provided by a friend, relative, babysitter, or nanny who cares for your child in your home, either full or part-time. Providers available for this type of care are not required to be licensed since they care for the children of a single family.

In-home care offers the following advantages:
It is convenient for the parent
The child spends his/her day in familiar surroundings
There is less risk of illness than in other forms of care
There is a lower child/provider ratio
There is a sense of family togetherness
There is greater control by the parent over the child's environment