Photos often speak louder than words. Our photo gallery is a tribute to the many people who give us a reason to be here, and the wonderful volunteers that help make our programs come alive. Can you imagine yourself in one of these photos?
---
Raising Readers - 40th Birthday Party
Raising Readers, our 40th Birthday Party at Clover Park on October 22nd, was a fun-filled morning of music, reading, and fun activities. We'd like to thank our wonderful and generous sponsors for their support! You can find their names scrolling at the bottom of this page. We'd also like to express our gratitude to the many volunteers who helped to make this a very special event.
Senator Ben Allen with CFC ED Patti Oblath and Board Chair Iao Katagiri

CFC Board Chair Iao Katagiri

Rhythm Child Norman Jones

Senator Allen and CFC Co-Founder Betsy Hiteshew

CFC Board Member Adri Butler

Board VP, Sharon Gavin

Ice Excavations

CFC Board Members

Patti Oblath, Betsy Hiteshew and Iao Katagiri

Thanks to our sponsors!
---
Holiday Angels Program
Our annual Holiday Angels Program is a year-end treat we give to the children enrolled in our child care subsidy programs and their families. This event wouldn't be possible without wonderful volunteers who help collect new toys, books and other special gifts. Our volunteers are also our "elves," wrapping gifts, helping families and spreading holiday cheer. Every year, thanks to our volunteers, we can count on at least one special surprise. This year the LA D-Fenders were there to help wrap gifts and share in the holiday spirit.
---
Happy Holidays 2014

Hill & Dale Preschoolers Deliver Gifts

Volunteer Wrapping - Melissa

Hmmmm

D-Fenders Autograph a Basketball

Volunteer Giftwrapping - Robin

The D-Fenders Wrap Gifts

More Holiday Angels

And More

And Even More

Happy Holidays!
---
Women's History Month
In March, Connections for Children shared pictures and stories of the women who've helped shape our history.
Clara Barton

Clara Barton was one of the founders of the American Red Cross and as a pioneer in the field of nursing during the Civil War. She was also a supporter of the women's suffrage movement and dedicated her life to helping people.

Elizabeth "Bessie" Coleman

Elizabeth "Bessie" Coleman was the first female pilot of African American descent.

Margaret Chase Smith

Margaret Chase Smith was the first woman to serve in the U.S. Congress, both in the House of Rep. and Senate.

Pearl S. Buck

Pearl S. Buck became the first woman to win the Nobel Prize for Literature for her novels about American and Asian culture, namely "The Good Earth" (which also won the Pulitzer in 1932).

Frida Kahlo

Frida Kahlo is considered one of the greatest artists of the 20th century, and an icon for feminism.

Lucille Ball

Lucille Ball really needs no introduction. American actress, comedian, model, and film studio executive, she starred in one of the most popular (and best) sitcoms of all-time.

Susan B. Anthony

Susan B. Anthony was a prominent American suffragist and civil rights activist. She campaigned against slavery, and is credited with playing a significant role in the passing of the 19th amendment which gave women the right to vote.

Hattie McDaniel

Actress Hattie McDaniel was the first black woman to win an Academy Award (Best Supporting Actress) for her role as Mammy in "Gone with the Wind".

Loretta Mary Aiken

Loretta Mary Aiken AKA "Moms Mabley" went on to establish a career as the top standup comedienne of her time. She starred in several films, became a headliner at the Apollo Theater and in the 1960s had hit comedy albums.

Annie Oakley

Annie Oakley was an American sharpshooter whose rifle talent led to a starring role in "Buffalo Bill's Wild West" show. Her rise to fame led her to become one of the first American women to be a "superstar".

Song Qing Ling

Song Qing Ling played a prominent role in China's politics prior to 1949. She devoted her life to liberating the people of China, and gaining rights for women in China and to the benefit of children across her homeland. She has become known as the "mother of modern China."

Ella Fitzgerald

Ella Fitzgerald is considered one of the greatest jazz singers of all time. She was the winner of 12 Grammy Awards and was awarded the Presidential Medal of Freedom in 1992.

Dorothy Crowfoot Hodgkin

Dorothy Crowfoot Hodgkin studied X-ray crystallography at Oxford - a type of imaging that uses X-rays to determine a molecule's three-dimensional structure. She spent years perfecting the technique, and determined the structures of penicillin, vitamin B12 and insulin. As a result, she was awarded the Noble Prize in 1964.

Toni Morrison

Toni Morrison is an American novelist, editor, and professor. She won the Pulitzer Prize and the American Book Award in 1988 for "Beloved", and the Nobel Prize in 1993. And, on May 29, 2012, she received the Presidential Medal of Freedom.

Lady Deborah Moody

Lady Deborah Moody (ca.1583-1659) became the first woman in the New World to receive a land patent, to write the first town charter in English in New Netherland, and to establish one of the first towns with a square block plan in the New World. Furthermore, Gravesend's policy of religious freedom set it apart from most colonial settlements. She was described by many as a "dangerous woman".

Mary Robinson

Mary Robinson was the first female President of Ireland (1990-1997) and United Nations High Commissioner for Human Rights (1997-2002). She is widely regarded as a transformative figure for Ireland, and for the Irish presidency, revitalising and liberalising a previously conservative, low-profile political office.

Emily Greene Balch

Emily Greene Balch worked tirelessly on behalf of world peace. In 1939, she published "Refugees as Assets," urging the United States to admit refugees from Nazis out of respect for humanitarian principles. After Pearl Harbor in 1941, Balch advocated support for Japanese-Americans held in U.S. detention camps. She founded the Women's International League for Peace and Freedom, and co-won the Nobel Peace Prize in 1946.

Toni Stone

In 1953, Toni Stone became the first woman to play as a regular on a big-league professional team as a member of the Negro League's Indianapolis Clowns. In 1985, she was inducted into the Woman's Sports Foundation's International Women's Sports Hall of Fame. March 6th is known as "Toni Stone Day" in her hometown of St. Paul, Minnesota.

Golda Meir

Golda Meir was a teacher and a politician, who was later elected Prime Minister of Israel on March 17, 1969, after serving as Minister of Labour and Foreign Minister. Israel's first and the world's third woman to hold such an office, she was described as the "Iron Lady" of Israeli politics years before the epithet became associated with British Prime Minister Margaret Thatcher. Former Prime Minister David Ben-Gurion used to call Meir "the best man in the government"; she was often portrayed as the "strong-willed, straight-talking, grey-bunned grandmother of the Jewish people".

Victoria Woodhull

Victoria Woodhull was a strong supporter of women's rights, and often spoke publicly on behalf of women's suffrage, and even addressed Congress on the issue. She ran for the U.S. presidency on the Equal Rights Party ticket in 1872 - the first woman to ever do so.

Leontyne Price

Leontyne Price is widely regarded as the first African-American singer to gain international reputation in opera.
Her debut at the Metropolitan Opera House in New York in 1961 was as Leonora in "Il Trovatore." Quickly becoming a leading soprano there, Price made the Met her primary base until her retirement in 1985.

Sarah Emma Edmonds

Sarah Emma Edmonds was one of approximately 400 women who succeeded in enlisting in the army (either Union or Confederate) during the Civil War. She wanted to answer the call. So she cropped her hair, got a man's suit of clothing, took the name of Frank Thompson. On April 25, 1861, Emma Edmonds alias Frank Thompson became a male nurse in the Second Volunteers of the United States Army.

Hedy Lamarr

Hedy Lamarr, although better known for her Silver Screen exploits, she also became a pioneer in the field of wireless communications following her emigration to the United States. The international beauty icon, along with co-inventor George Anthiel, developed a "Secret Communications System" to help combat the Nazis in World War II. By manipulating radio frequencies at irregular intervals between transmission and reception, the invention formed an unbreakable code to prevent classified messages from being intercepted by enemy personnel.

Julia Child

Julia Child was a TV chef and author. She adapted complex French cooking for everyday Americans, with her groundbreaking cookbook "Mastering the Art of French Cooking". Lauded for its helpful illustrations and precise attention to detail, and for making fine cuisine accessible, the book is still in print and is considered a seminal culinary work. She would go on to publish nearly twenty titles under her name and with others.

Rita Moreno

Rita Moreno won acclaim for her role as Anita in the film adaptation of West Side Story, had a successful Broadway career and even performed at President Bill Clinton's inauguration in 1993. She was only the second Puerto Rican to win an Academy Award and is still the only Latino who has earned the prestigious EGOT (Emmy, Grammy, Oscar and Tony).

Joan Mitchell

Joan Mitchell was a bold and inventive painter, and preeminent member of the "second generation" of Abstract Expressionists. She was one of her era's few female painters to gain critical and public acclaim. Her paintings and editioned prints can be seen in major museums and collections across the United States and Europe. On May 13, 2014, Mitchell became the most expensive female artist at auction when an untitled abstract dating from 1960 was sold for $11,925,000 at Christie's, New York.

Jean Carroll

Jean Carroll was one of the very first female stand-up comedians. Carroll always dressed beautifully for shows, often wearing an evening gown and gloves to perform. By 1949, Carroll became the first comedian to play the Copacabana, Paramount Theater and Capitol Theater in New York all within six months. While women in stand-up are still too few, Carroll opened the door for other female comedians.

Betsy Hiteshew

Betsy Hiteshew is one of the "fore-mothers" of Connections for Children.

Docia Zavitkovsky

Docia Zavitkovsky is part of the amazing "fore-mothers" of Connections for Children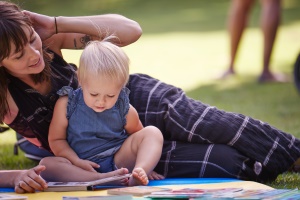 Find Child Care
Connections For Children helps parents balance the challenges of work and home life. Our caring staff members offer a wealth of free information and resources on child development, parenting, and high quality child care.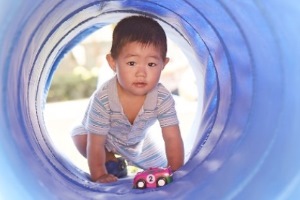 Financial Assistance
Child care is costly. Perhaps we can help your family on the way towards self-sufficiency though our financial assistance subsidies. Take the first step and apply for our Eligibility List to see if you qualify.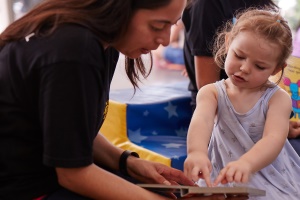 Professional Development
Improve your skills and knowledge as an early childhood educator. We offer a breadth of educational training, resources, and expertise for those at all experience levels. Most programs are free.