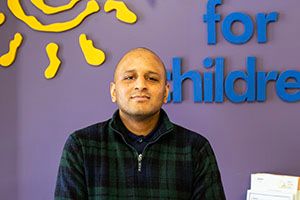 Allow us to introduce you to Sheldon Morris, Payment Specialist!
*Please share a little about your background, including schooling and prior jobs working with children.
I graduated with a Masters of Business Administration degree in Management. My prior experience has included working with people who are without homes and reducing societal difficulties that plague communities.
*How did you come to work at CFC?
My sister told me that a great opportunity had recently become available and that I should apply for the position. I was intrigued by the fact that the organization was committed to helping children who were in need of child care.
*What are your duties in your current position?
I review, calculate, and process payments for child care providers. Additionally, I organize and file documents and provide customer service to providers, relatives, and parents.
*What are your biggest challenges on a day-to-day basis?
Making sure I continue to focus on the minor points when I process payments. The smallest detail could have a great effect on how much a provider is paid.
*What motivates you in your current capacity, or what part of your position gives you the most satisfaction?
Knowing that parents are better able to afford child care for their children. It brings great work fulfillment when some of the financial burden of child care is reduced for working parents.
*What are your future goals with the company (or what do you hope to accomplish)?
I plan to provide a strong work ethic, accountability, and reliability to an already dedicated Payments Department. Moreover, I would love to learn more about the different functions of each department at Connections for Children.