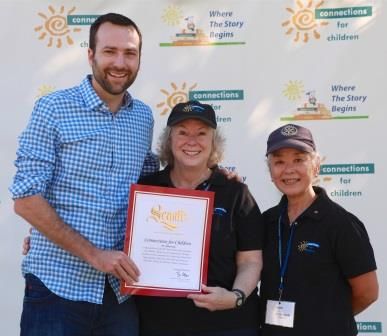 Thank you to everyone who came out to celebrate at Raising Readers, our 40th Birthday Party at Clover Park on October 22nd. Our fun filled morning included music, reading, and fun activities. Norman Jones of Rhythm Child led attendees in a fabulous drum circle where everyone found the beat.
State Senator Ben Allen (left) presents Connections For Children Executive Director Patti Oblath (center) and Board President Iao Katagiri (right) with a commendation from the State Senate. Assemblymember Richard Bloom and the Santa Monica City Council also recognized CFC's 40th anniversary with special certificates.
We had a great time commemorating the launch Where The Story Begins, our reading readiness program. Each child took home a brand new book, thanks to the support of the Ella Fitzgerald Charitable Foundation.
We'd like to thank our wonderful and generous sponsors for their support! You can find their names scrolling at the bottom of this page.
We'd also like to express our gratitude to the many volunteers who helped to make this a very special event.
Please check out more pictures from Raising Readers in our Photo Gallery.