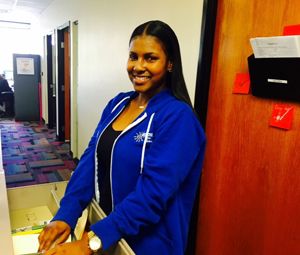 Allow us to introduce you to Tatiana Morris, Administrative Assistant!
*Please share a little about your background, including schooling and prior jobs working with children.
For the past two years, I've been the front desk administrative assistant for Connections For Children. Previously, I worked with children at a YMCA summer camp where I was a camp counselor. At the YMCA, I managed camp activities, created games, and led storytelling time.
I have over 10 years of experience in the area of customer service. Prior to working with this amazing organization, I was working with other conventions where I gained and improved my social and management skills.
*How did you come to work at CFC?
I began working for CFC through the Marina Del Rey Work Source Center as a temporary employee. After 8 months, an administrative assistant position became available and was offered a permanent position.
*What are your duties in your current position?
As an administrative assistant at the front desk, I am the first point of contact with parents and providers that call or visit the office. I receive, screen and transfer calls to their destinations, manage mail and fax correspondences, and distribute incoming mail, family fee payments and time sheets.
*How has your position with CFC changed over the years?
When I began working with CFC, I was assisting case specialists with filing, courtesy calls, verifying employment and helping out at the front desk when needed. Working with the subsidized programs helped me to have a better understanding of how each program works. Eventually I transitioned from assisting specialists to managing the front desk.
* What motivates you in your current capacity, or what part of your position gives you the most satisfaction?
I was a participant, receiving child care subsidy. It made child care affordable and allowed me to place my daughter in the environment and daycare that was best for her. I appreciate the great service and help that I received. Now being in my position as an administrative assistant for CFC, I am able to give back by informing families and guiding them, while providing great customer service.
*What part of your job is the most difficult?
The times when there are families that are struggling and in need of immediate help paying for child care, and I am unable to expedite the process for them.
*With CFC entering into their 40th year, what are your future goals with the company (or what do you hope to accomplish)?
I hope that we can continue to serve our community and parents who are looking for child care service and financial assistance. I'm confident that Connections For Children will continue to provide services for another 40 years, and want to be a part of helping to enroll a larger volume of families in the years to come.