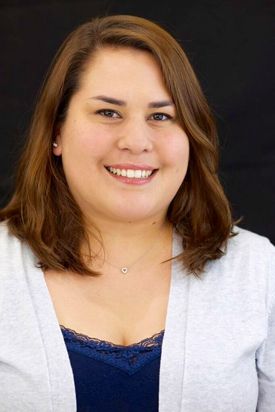 Allow us to introduce you to Monica Delia, Gateways For Early Educators Quality & Career Coach!
*Please share a little about your background, including schooling and prior jobs working with children.
I am one of the Gateways for Early Educators Quality and Career Coaches here at Connections For Children. I went to Santa Monica College where I completed an A.A. in Early Childhood Education in 2006. I then transferred to Cal State University Northridge where I earned a B.A. in Child and Adolescent Development in 2008. I was a preschool teacher for seven years, working with ages 0-5, five years of which involved working with toddlers. For the past three years, I've been part of CFC in the Resource and Referral Department.
*How did you come to work at CFC?
I was actually a participant receiving coaching through the Gateways program while I was still a preschool teacher. I was interested in branching out of the classroom while still remaining in the child development field, and my coach Cynthia Cervantes shared the job posting with me.
*Why did you select child development/child care as a career?
Working with children was always something I enjoyed, and I was lucky to figure out early on in college that I wanted to pursue child development as a career. I began taking courses at Santa Monica College and fell even more in love with the field. To see how much of an impact early educators could have on the children they worked with really struck a chord with me, and it made me want to be part of something so big and important.
*What are your duties in your current position?
As a Quality and Career coach, our job is to work one-on-one with Early Educators, whether they are Family Child Care Providers, Center Teachers, or college students studying Child Development. We act as a resource and support for Educators in this field. We do everything from helping to write cover letters and resumes to looking at classroom environments and encouraging teachers to strive for quality.
*How has your position with CFC changed over the years?
I was hired as a Quality and Career Coach, and remain one today. While the Gateways For Early Educators program is coming to an end, there are other programs coming up the pipeline we will be part of.
*What motivates you in your current capacity, or what part of your position gives you the most satisfaction?
Something that really motivates me in this position is the connections we make with the people we work with. It is the culture of Connections For Children to be warm, inviting, and supportive of the people we work with. I feel our culture carries on into the coaching as well. As we build relationships with our participants and when they succeed in a goal they have set for themselves, it makes everything worthwhile.
*With CFC entering into their 40th year, what are your future goals with the company (or what do you hope to accomplish)?
I would love to see us continue what we do as a team, and continue to support the parents and providers we work with as well as remain such an active part of our community.