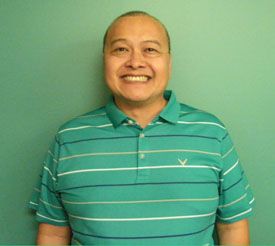 Allow us to introduce you to Dean Chow, our Fiscal Director!
*Please share a little about your background, including schooling and any prior jobs working to assist children.
I completed my undergraduate work at California State University Long Beach in Finance and received my Masters in Public Administration from Walden University. I have been in the non-profit sector for several years working previously at the Mar Vista Family Center and the Long Beach Community Foundation. The notion of serving others has long been a passion of mine and my employment stops have included organizations that have provided early childhood daycare and education, social and scholastic opportunities, as well as the caretaking and investment of philanthropic funds. Currently I serve on a citizens oversight committee reviewing expenditures for bond related school infrastructure as well as the Board President for Families Uniting Families, a foster care agency in my hometown of Long Beach. I have been married to my beautiful wife Debbie for 25 years and have three children (hence the near baldness and greying) - all currently attending college.
*How did you come to work at CFC?
My position at CFC allows me to practice many of the skills I learned in my Masters program. The ability to take scarce public financing and distribute it in the most efficient and expedient manner is one of the greatest challenges public administrators face. My role at CFC places me right in the middle of this challenge and allows me to be part of a solution to the dearth of quality early childhood education.
*What are your duties in your current position?
Currently, I am in charge of overseeing the financial operations of CFC; the resident "bean counter" if you will. This includes areas such as budgeting, accounting, financial reporting, and Provider payment. Fiscal Department, while not in the field with our other dedicated staff, is a vital component in the workings of CFC.
*What are your biggest challenges on a day-to-day basis?
The biggest challenge is to insure the present day and long term financial health of CFC. In an era of shrinking financing options and support streams, the complexity of insuring the next 40 years and beyond for CFC is indeed a daunting task.
*What motivates you in your current capacity, or what part of your position gives you the most satisfaction?
Quality early childhood education is a vital and underserved facet in a child's life. Study after study has proven that early intervention and education provides a strong foundation for growing up healthy and happy. For 40 years, CFC has been a leader in providing such opportunities. To hear and speak to these empowered families is motivation to continue the work.
*What aspect of your job is the most difficult?
The most difficult part of my position is navigating the regulation and requirements necessary to serve those in need. The transition from "well meaning" to "positive action" can be a slow and arduous path and trying to detangle and streamline policies and procedures can be very difficult.
*With CFC entering into their 40th year, what are your future goals with the company (or what do you hope to accomplish)?
Continuing to make access to quality early childhood education a higher priority in the social conscience is what I hope to accomplish for the future. For 40 years, CFC has been at the forefront of this cause and will continue to lead the charge. Yet, there is still a long way to go. The need for quality early childhood education has never been greater and I am proud to be part of the hard working staff at CFC working towards a solution.