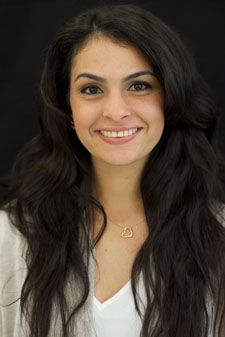 Allow us to introduce you to our Nutrition and Physical Activity Specialist, Sharlout Golbari!
*Please share a little about your background, including schooling and prior jobs working with children.
I attended Beverly Hills High School, and then went on to earn both my undergraduate degree and Master's Degree at California State University Northridge in Nutrition and Dietetics. My lifelong passion has always been in nutrition and healthy lifestyles, and Connections For Children has given me the opportunity to target children who I have always believed to be the most vital group of individuals.
*How did you come to work at CFC?
Prior to working at Connections For Children, I specialized in Medical Nutrition Therapy at doctors' offices and in my own private practice. However, working with my team at CFC has been extremely rewarding, and I feel very lucky to have found this position where I have the opportunity to work with an amazing group of people to impact children's lives for the better.
*What are your duties in your current position?
My role here includes conducting nutrition and physical activity workshops for childcare providers and parents with the goal of increasing children's health and decreasing childhood obesity. I build and maintain relationships with childcare professionals and parents and provide mentoring and resources to help participants integrate new information into practice.
*What are your biggest challenges on a day-to-day basis?
My biggest challenge and most rewarding obstacle is inspiring and motivating individuals to change their lives, and their children's lives for the better. The assumption made by many people is that healthy lifestyle modifications are an impossible task, and they give up due to feeling overwhelmed. This is where I come in. I help steer them on the right course and offer ongoing support when they need it.
*What motivates you in your current capacity, or what part of your position gives you the most satisfaction?
I get the most satisfaction when following up with parents, child care providers, teachers and nannies, and they tell me how I've impacted their lives. Many of them—eagerly and immediately—put the information learned in my workshops into practice and are ecstatic about the results. Such information includes: how to get kids to be more physically active, the proper way to interact with picky eaters, and child friendly menu options.
*What part of your job is the most difficult?
The most difficult part of my job is hearing the challenges faced by providers and parents, and not being able to do more. Although the resources I provide are extremely helpful in implementing new healthy lifestyle practices, I am told that the information presented during my training sessions and workshops are even more helpful. Given this fact, I wish I was able to reach and educate even more individuals, given them the tools to implement healthier lifestyles changes.
*With CFC entering into their 40th year, what are your future goals with the company (or what do you hope to accomplish)?
Connections For Children has come such a long way and has made such a strong impact over the past 40 years. I have no doubt in my mind that we will go even further in the next 40 years. I hope that we continue to focus on children's health through education. With the rate of obesity continuing to increase, it is becoming even more important to get this message across to everyone. Due to the fact that children spend a majority of their time at childcare, this is the perfect place to target them and share the importance of nutrition and physical activity.