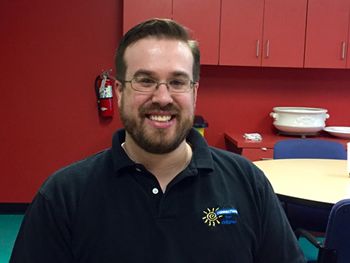 Allow us to introduce you to our Stage 2 Intake Specialist, Geoffrey Pincus-Brimble!
*Please share a little about your background, including schooling and prior jobs working with children.
I went to high school at Santa Monica High School and then went on to receive a BA in History at UC Santa Cruz. Currently, I'm attending the Pepperdine University Graziadio School of Business Management, pursuing an MBA.
*How did you come to work at CFC?
I began volunteering at CFC while looking for work. After a month or so, I was offered a temporary position in the CalWorks Stage 1 Department, and eventually became a permanent staff member.
*What are your duties in your current position?
Stage 1 Intake Specialist:
- I approve and manage all Job Club cases.
- I review potential cases for transfer from CalWorks Stage 1 to CalWorks Stage 2. These cases are either no longer receiving CalWorks cash aid, or have been in the same activity and receiving child care for at least 6 months.
- I am the backup Stage 1 Intake Specialist, helping families when Karina is unavailable.
Stage 2 Intake Specialist:
- I am the CalWorks Stage 2 Intake Specialist. I screen potential new Stage 2 families for eligibility and then enroll them in our program.
- I review potential cases for transfer from CalWorks Stage 2 to CalWorks Stage 3. These cases have not received cash aid for 24 months.
*How has your position with CFC changed over the years?
I began as a general assistant for the Stage 1 department, helping to pull new cases from our online system and make reminder call to new Stage 1 parents. I was then trained to become the Stage 1-2 transfer specialist, and later a Stage 1 case manager. More recently, I have become the Stage 2 Intake Specialist, allowing more people to manage the growing Stage 2 caseload.
*What are your biggest challenges on a day-to-day basis?
I receive a high volume of phone calls, which tends to slow my ability to complete the large of paperwork involved in each case. Since I also deal with cases from several departments, it can also be hard to take a phone call for a Stage 2 case after working on a Stage 1 case. Each department is similar, but each has minor differences in the requirements and approval process, which can sometimes cause me enter them incorrectly. Sometimes I put parents on hold in order to completely transition my brain and focus on that particular case.
*What motivates you in your current capacity, or what part of your position gives you the most satisfaction?
I really enjoy helping people. In my current position, I am able to help people with child care while they look for work, go through school, or gain work experience. If all were right with the world, my job would not exist because people would not need our help.
My goal is to help families reach a point at which they no longer need to our programs. My favorite phone call is when a parent calls to tell me that they are self-terminating, because they found a job that pays enough to no longer need our services.
What part of your job is the most difficult?
The amount of paperwork and small steps necessary to complete each case is staggering. One day, everything will become digitized, saving time and paper for everyone.
*Tell me a suggestion you have made that was implemented with great results.
I suggested changing some aspects of the Stage 1-2 transfer process, making it easier for some parents to complete the transition. Overall, parents (especially those that live further away) have been able to complete the process more easily and without having to come into our office.