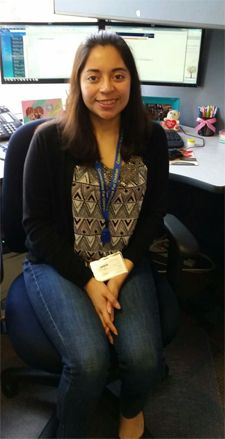 Allow us to introduce you to our Resource & Referral Specialist, Shirley Perez!
*Please share a little about your background, including schooling and prior jobs working with children.
I have over 8 years of experience working with children of all ages. I've worked as a tutor, a family child care assistant, and a teacher assistant. I began tutoring children when I was in high school. I started tutoring children from 3rd through 8th grade. Eventually I tutored middle schoolers and high schoolers.
After I graduated from high school, I worked in a Family Child Care for about 2 years while I attended Cal State University - Northridge. Tutoring was always something I enjoyed so during my junior year in college, I was offered a volunteering position as a tutor for incoming freshman and sophomores in the Cinema and Television department. I did that for the following two years until I graduated from Cal State University Northridge with a major in Cinema and Television Arts.
Aside from CFC, I have been working as a teacher's assistant at El Marino Elementary. I work with children in 3rd through 5th grade during an after school television class. We teach children the foundations of production, creating interviews, news stories and commercials. Although I didn't major in child development, working with children is always something I still enjoy doing. I have the pleasure of doing two things I enjoy: working with children and teaching them about television, one of my passions.
* How did you come to work at CFC?
I found Connections For Children through a staffing agency. I had recently graduated from college and I was looking for a job. I started off as a temporary administrative assistant and within 6 months, I was given an opportunity to join the Resource and Referral department. That's when I got the Resource and Referral Position I hold today.
*Why did you select child development/child care as a career?
Although my major wasn't in child development, I always liked working with children and families. It's gratifying to be a part of a nonprofit that not only helps families in need of child care assistance but helps the people that want to pursue their careers in the child care field.
*What are your duties in your current position?
As an R&R Specialist, some of my duties are to help families find child care and assistant with our eligibility applications when families want to receive subsidy. I manage our Health and Safety Reimbursement Scholarship program for licensed providers, and co-facilitate Family Time at Virginia Avenue Park.
*How has your position with CFC changed over the years?
My position has changed a lot from when I started because I have learned so much about the agency. I have taken on different roles such as handling the Health and Safety scholarship reimbursement program, facilitating our professional development training, creating flyers, being in charge of different event activities, and speak on behalf of our agency at Child Care Licensing orientations
*What are your biggest challenges on a day-to-day basis?
My biggest challenge on a day-to-day basis is handling referral calls on busy days. I can be on a call with a parent and once I hang up, I have another call waiting and so forth. I am able to help all the families that call for referrals nonetheless, but those days can be a challenge.
*What motivates you in your current capacity, or what part of your position gives you the most satisfaction?
The most satisfying feeling is when parents contact me after receiving referrals and they tell me they have found a great place for their child. It makes me happy to hear that and know that I was able to assist them successfully.
*What part of your job is the most difficult?
The most difficult part of my job is that sometimes, it is out of my control to assist families immediately with child care subsidy. Many families are in need of child care subsidy and it's difficult to help them when they call and need assistance the following day/s.
*With CFC entering into their 40th year, what are your future goals with the company (or what do you hope to accomplish)?
A goal I have for Connections For Children is that we continue to grow and improve so that we can continue to help families in need. I hope to inform more families about the importance of quality child care and all the options that are available. Children are our future, and they deserve to receive the best education early in life.