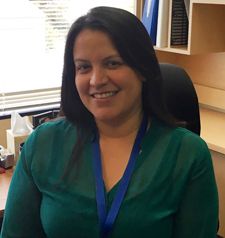 For 40 years, our staff, consisting of some of the most passionate and knowledgeable child care professionals in the field, has aided in the long-term sustainability of Connections For Children, and helped us become the go-to child care experts in the Westside and South Bay communities of Los Angeles County.
As part of our 40th anniversary, we'd like to share a few staffer histories, including the significant roles they play in the day-to-day operations of Connections For Children—behind the scenes and directly with children.
Allow us to introduce you to our Resource & Referral Manager, Judy Laureano.
*Please share a little about your background, including schooling and prior jobs working with children.
I have always wanted to work with children. Growing up I was either volunteering at my local elementary school and/or at my local church. My own experiences of working with children encouraged me to pursue a degree that would allow me to work as an elementary school teacher. As I began my journey at Mount St. Mary's University, I knew that I wanted to finish my degree in four years. After an introductory course in Liberal Arts in the first semester, I realized I didn't want to be an elementary school teacher anymore. I knew I wanted to work with children, so I looked into early childhood education. I switched my degree and pursued an associate's degree in Early Childhood Education. I instantly fell in love. I obtained an associate's degree, and continued my education. I eventually graduated with a bachelor's degree in Child Development and Sociology.
*How did you come to work at Connections For Children?
When I was laid off from my first "real" job after college, I took it as a sign to find something that had to do with my major. I began researching a position in my field of study, and came across an open outreach specialist role at Connections For Children. 11 years later, I'm still working for Connections.
*What are the duties in your current managerial position?
My position as a manager consists of overseeing the different programs involved in the Resource and Referral department. I currently supervise a team of 8 staff members.
*How has your position with CFC changed over the years?
Over the course of 11 years, my position has continued to evolve, and I've been able to work in just about every program that Connections has offered. It's been a pleasure growing professionally within the agency.
*What motivates you in your current capacity, or what part of your position gives you the most satisfaction?
I love what I do. I love to provide information and resources to families as they embark on their search for child care. I enjoy being able to support my staff as they work directly with our child care providers and center staff to improve the quality of child care programs.
*Share a suggestion you have made that was implemented with great results.
Family Time is something that I hold dear to my heart. It was an idea that was born and executed with the support of my former manager. I had just returned from maternity leave and the agency wanted to provide a program for parents. We modeled it after a "Mommy and Me" group, but we opened the group to caregivers and/or anyone that is taking care of children under the age of five. The goal was to provide age appropriate activities to children while staff model child/adult interactions. It was also to be used as a venue for participants to share their challenges with other caregivers and parents. As we started, I brought my own toddler to class to ensure that if another parent came, we would have another child in the room. Eight years later, Family Time is a great success and has evolved to 2 classes to accommodate the demand.
*With CFC entering into their 40th year, what are your future goals with the company?
As we enter into the 40th year, I would like to see the agency continue to work to offer programs that enhance the quality of early childhood education!