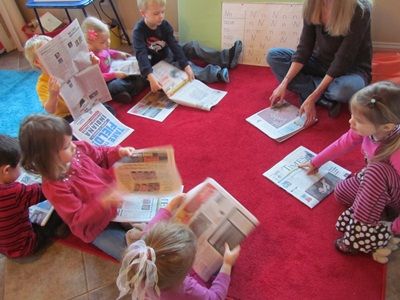 On Wednesday, December 10, 2014, early childhood education in the United States gained $1 billion in public-private spending. It's not just a stride—it's a leap. This investment was declared by President Obama at the White House Summit on Early Education. What does this mean? It means that this will affect thousands of children educationally—in a monumentally positive way.
Here is a breakdown of the financial agreement, as documented in Jennifer Kerr's Obama announcing 1 billion investment for early childhood education
.- 18 states are being awarded a total of $250 million in Education Department grants to create or expand high-quality preschool programs. Those states are: Alabama, Arizona, Arkansas, Connecticut, Hawaii, Illinois, Louisiana, Maine, Maryland, Massachusetts, Montana, Nevada, New Jersey, New York, Rhode Island, Tennessee, Vermont and Virginia. In all, 36 states had applied for the grant money.
- Another $500 million from the Health and Human Services Department is being sent to more than 40 states to expand Early Head Start and child care programs for youngsters from birth to 3 years old. The White House said about 63,000 children would benefit from the federal dollars, which officials said already have been appropriated by Congress.
-There is another $330 million from dozens of corporations, foundations and individuals. That money is part of a new campaign called Invest in US.
-The effort being led by the First Five Years Fund will challenge the private and public sectors to spend more on early childhood education. Among those supporting the campaign are The Walt Disney Co. with $55 million, the LEGO Foundation with $5 million and the J.B. and M.K. Pritzker Family Foundation with $25 million.
The advantages of early education are staggering. Kerr noted that President Obama spoke about how "less than one-third of 4-year-olds are enrolled in preschool and blamed the high cost of these programs for essentially shutting off access to poorer infants, toddlers and preschoolers." According to President Obama, children that have the added benefit of early education are "more likely to finish their educations, avoid the criminal justice system, hold good jobs and have stable families."
The bridge between early education and its distribution among the less affluent portion of the population is is well-documented. In a March 7, 2013 article by Paul Soloman, called The Depressing Data on Early Childhood Education
, an interview was conducted with developmental psychology specialist, Jerome Kagan (although the data was collected by a Nobel laureate economist, Joseph Stiglitz), who stated openly that "for a child born into the lower fifth of the income distribution of his family, the odds are 50 percent that he or she will ever rise out of that [lower] fifth." Mr. Kagan said that to stop driving a nail into this gap, "you need a congress that's willing to invest in changing neighborhoods and improvement schools in poor neighbors." If the educational goals of the current administration are continued, Mr. Kagan's wish may just come true.
Nelson Mandel said it best: "Education is the most powerful weapon we can use to change the world." With the new billion dollar allotment in funds, there is hope for the children who are unable to receive an early education. Growth in education undoubtedly equates to a more stable future for the next generations. It's a great time for early education in the United States.
A very worthwhile website about the future goals related to educating our young ones is Early Learning
.