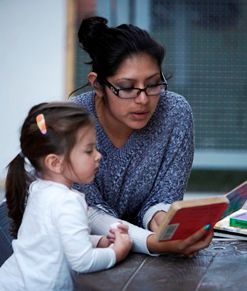 In Early February 2015, President Obama announced his planned 2016 budget to Congress. One would think that the major priorities of his $4 trillion request would be directed toward defense, employment, or even healthcare. Instead, the Administration is aiming at improving early childhood education, asking for approximately $84 million in funding for the Department of Health and Human Services (HHS). This department oversees the major early childhood causes.
Below is a breakdown of the HHS budget being offered from President Obama, courtesy of an article by Abbie Lieberman titled "The Top Three Early Ed Requests in President Obama's HHS Budget".
Child Care
The main priority of the Administration is access to affordable, high-quality child care. President Obama is seeking to provide all low-and moderate-income families with access to top-notch childcare. Here are the outlined proposals by President Obama:
- Increase the Child and Dependent Care Tax Credit to $3,000 per child for child care (currently sits at $1,000 per child). This increase would reduce the cost burden for millions of families. Those of us with little children would rejoice at tax season!
- Increasing mandatory funding for the Child Care and Development Fund (which funds the Child Care and Development Block Grant - CCDBG) by $82 million over ten years. This major funding would help expand child care for low-and moderate-income families that have children under the age of four. This would allow the CCDBG law (which the Administration is seeking to implement in all U.S. states) to regulate program quality, sending vulnerable children to thrive in early education program.
-The budget portions $100 million for a grant competition to support innovative child care in needy communities.
Head Start
President Obama is seeking $10.1 billion in funding for Head Start and Early Head Start – programs that provide comprehensive services to low-income pregnant women and children from birth to age five.
- Currently, many Head Start centers are unable to provide more hours of services due to lack of funding. $1.1 billion of the proposed funding is aimed to lengthen the day and year to ensure adequate instructional time – and produce more impactful services. Full-day programs can improve children's opportunities to learn (more one-on-one time between adults and children). This funding would allow at least six hours a day per day for at least 170 days a year – the current minimum conditions are 3.5 hours per day/128 days per year.
-Only four percent of eligible families receive Early Head Start services, and President Obama is seeking a $150 million increase for EHS. Partnerships of this program would receive $650 million to expand access to high-quality child care for children from birth to age three.
Home Visiting
First established in 2009 under the Affordable Care Act, the Maternal, Infant and Early Childhood Home Visiting Program (MIECHV) offers voluntary, evidence-based home visiting services to low-income parents with children under the age of five. President Obama is asking for a $500 million dollar increase. The goal of this program is to facilitate and improve parenting policies and child outcomes.
If the planned budget by the current Administration is approved, early education is going to win big. This not only benefits the child care providers, but the children—the main recipients of these services. It's all about high-quality care! Let's look at an example of how high-quality early childhood programs will benefit our little ones.
Detailed in an article called "Study finds preschool programs lower special education referrals" by Susan Frey, Duke University put together a 15-year study (between the years of 1995 and 2010), and monitored the impact of two state-funded programs in North Carolina – both programs were chosen "because of their recognition nationally as high-quality intervention programs for young children." The article notes that "most children in North Carolina are referred for special education before grade 4." This is because "49 percent of students are in special education because of speech or language impairment, and 39 percent have developmental delays. Autism accounts for about 7 percent of special education children. The remaining 5 percent of children have a variety of disabilities including mental retarding, hearing loss and orthopedic impairment." In 2009, researchers found that by placing a child in a pre-kindergarten program at the funding level, the odds of a child requiring special education would be reduced by 32 percent. In the other program, the likelihood was reduced by 10 percent.
Ms. Frey reports that "nationwide, special education costs nearly twice as much as general education," and "children placed in special education are at a higher risk of dropping out of school and committing crimes as adults."
Overall, it was found that "children in state-supported, high-quality early childhood programs were less likely to be placed in special education."
This study shows great leaps in the reduction of necessary special education by utilizing state-funded programs. This was only one study, in one state. If you really think about how great these 2016 budget goals for early childhood education would mean to the youth of this country, you can't help but smile at the possibilities!
If you are looking for education-related information, you can't go wrong with checking out either EdSource and EdCentral.