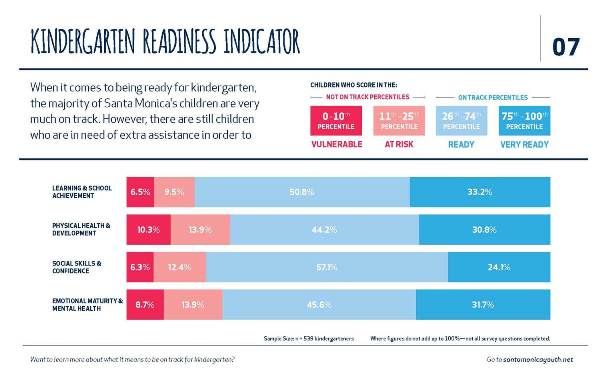 Thanks to the support of local teachers, Connections For Children and Santa Monica recently completed the community school readiness assessment of the 2014 – 2015 cohort of kindergarten students using the Early Development Instrument (EDI). For the past four years, Connections For Children has coordinated a project to provide community-wide data on kindergarten readiness in Santa Monica and adjacent neighborhoods through the use of the Early Development Instrument (EDI) at the city's public schools. This project measures the well-being and developmental readiness of young children entering kindergarten and tracks neighborhood-specific data on trends.
As a partner of Santa Monica's Cradle to Career, Connections acts as the link between the kindergarten classroom teachers and the UCLA Center for Healthier Children, Families and Communities, which licenses the EDI, analyzes the data and provides comprehensive reports on a neighborhood basis.
The Early Developmental Instrument (EDI) is a population measure of school readiness, which means that it collects information about kindergarten age children in participating geographic areas and then creates an overall snapshot of their developmental progress. The EDI does not label or identify individual children with specific problems. Instead, it looks at how experiences at home and in the community can help prepare children for the school environment.
The EDI provides local leaders with the information they need to evaluate school readiness, plan how to improve programs and supports, and better coordinate services to help children develop and learn before and during their school years.
The EDI provides information about children in five developmental areas that are known to affect well-being and school performance:
• Physical health and well-being
• Social competence
• Emotional maturity
• Language and cognitive skills
• Communication skills and general knowledge
UNDERSTANDING EDI RESULTS
EDI results are reported as the percentage of children who are "developmentally vulnerable" and "on track" in each of the five areas. Children who score at or below the 10th percentile of the national EDI population in each area are considered developmentally vulnerable, and those who score above the 25th percentile in each area are considered on track. The photo shows the 2013-2014 Santa Monica EDI results as presented in the 2014 Youth Well-Being Report Card.