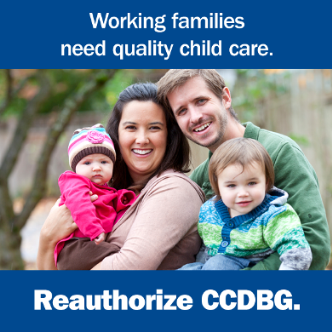 For the first time in 18 years, the US Senate will have the opportunity to pass a reauthorization of the Child Care and Development Block Grant program, the primary federal program that provides assistance for families for child care, containing measures to improve the quality of child care nationwide.
On Thursday, November 13th, the US Senate will take up final consideration of S.1086, the Child Care and Development Block Grant Act of 2014.
Starting in 2013 and continuing through 2014, working to improve and expand child care programs and legislation has taken center stage with some federal developments that have emphasized access to quality early learning opportunities for children and families. In May 2013, the Department of Health and Human Services released a Notice of Proposed Rule-Making on the Child Care and Development Fund, proposing significant regulatory changes to many child care measures, ranging from health and safety improvements to modifications to the subsidy and eligibility aspects of the program. In June 2013, the Senate Health, Education, Labor and Pensions Committee introduced a bill to reauthorize the long-expired (last reauthorized in 1996, funding authorization expired in 2002) Child Care and Development Block Grant Program, which passed the full Senate in March 2014. With support fro, both sides of the aisle, the House of Representatives passed an amended version of the bill on September 15, 2014, sending it to the Senate for final passage.
This is a huge win for working families in this country. This bill contains many common-sense measures for helping protect children in child care, such as requiring providers to undergo comprehensive background checks, ensuring annual inspections are conducted and requiring childcare providers receive training on CPR, first aid and safe sleep practices.
The Child Care and Development Block Grant is the primary federal grant program that provides child care assistance to families, and funds quality initiatives for child care. The legislation includes new changes to improve program access and quality. Some of the key changes include:
• Stronger health and safety standards for all child care programs that receive federal funding, including required annual inspections of all licensed providers, and annual fire, health and safety inspections of license-exempt, non-family providers.
• Extended subsidy eligibility re-determination periods (12 months).
• A new emphasis on technical assistance to providers around effective business practices.
• Increased investment in program quality, with additional activities that include wage incentives, tiered reimbursement, Quality Rating and Improvement Systems, accreditation, and focus on school readiness.
We are one step closer to ensuring children are safe and receiving quality early learning experiences while in child care. The research is clear, children's early years are proven to be the most important time to create strong learners. This bill sets the standard families expect for their children.
Please join us to thank the House of Representatives for standing up for children and working families by voting yes to reauthorize CCDBG by clicking here.
Now that the House has passed the bill, the Senate will have to take it up again. Click here join us to urge your Senators to pass CCDBG out of Congress for the first time in 18 years.